Fine Art Portrait Photography Sessions
The utterly timeless fine art studio shoots are elegant and subtle and will look amazing on your walls
Fine Art Portrait Sessions
What is a fine art session and how is if different to just a normal photo shoot?
A fine art photography session normally involves a prop or several props. It usually has a theme or a storyline in the picture. The images created involve really fine editing and often leave the picture looking like it could be a painting.
The utterly timeless fine art studio photoshoots with children are one of the most enjoyable of all shoots I do. They are elegant and subtle and will look amazing on your walls. If you prefer the more subtle pensive images in my portfolio, the studio fine art photoshoots could be for you. I can make an image have a realistic look or a more painterly finish. A finished piece of art.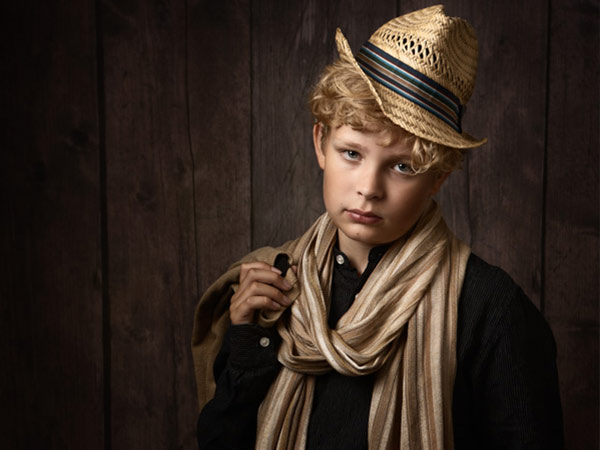 Children need to be old enough to take direction for these type of photoshoots. Usually, children tend to be over 4 yrs old.
I do have lots of lovely flowing dresses and outfits for the girls. I have outfits for boys including sailor outfits and a few vintage waistcoats and fat caps. I will give you a call to discuss clothing and props before the day. I will take into account the children's characters and colouring to choose the clothes and props that will compliment them and make the most of their fine art photography session. The shoot can take between 1 – 2 hours.
All sessions require a £99 booking fee  in order to secure your photoshoot which will be deducted from your final payment.
You don't have to choose what package you want until your viewing session a few weeks after the shoot. You will be shown a beautiful slideshow of all your images approx 20. You can choose to purchase prints or products instead of a package or opt for a package and wall art. I do have a minimum spend of £299.00 for a fine art shoot so on the day of the shoot itself £200.00 is payable . On the viewing session day you can opt to stick with the £299.00 package, order products or choose a higher package.
How long does the session last?
Typically a Fine art Session is 1 – 2 hours long to allow for changing time and getting hair ready and setting up the scene
What is the Viewing/Ordering session?
After your images have been edited you will be invited back into the studio to view your gallery. It is at this point that you will choose your bespoke package. All packages can be completely bespoke and you will get to purchase the products that you love, from wall art to albums to prints etc, there is so much to choose from which I will show you at this session
When will my images be ready?
At certain times of the year I am busier than others the typical time for the gallery to be ready to view is 3-4 weeks. I do aim to be quicker if I can
Do you provide the clothes?
I do have several outfits for girls and a few options for boys . Once you have made an enquiry and I know the age of the child I will then show you the options I have or suggest what to dress your child in.
Can all my children be included in the fine art session?
Typically a fine art session is for one child due to the nature of the session but I can include sibling shots as well if required ask on booking to see if possible.
Raman Vas
Tracy has been amazing, the quality of her work is second to none. Never disappoints and is at a really good price! Highly recommended!